LAUNCHED ON MAY 15, A LANDMARK REPORT BY THE HIGH LEVEL PANEL OF EXPERTS (HLPE) FOR THE UN COMMITTEE ON WORLD FOOD SECURITY (CFS) ARGUES THAT ACCESS TO WATER IS A VITAL ASPECT OF ENSURING IMPROVED FOOD SECURITY AND NUTRITION. MOVING BEYOND THE SCOPE OF LOOKING AT THE ROLE OF WATER NOT ONLY FOR AGRICULTURE BUT ALSO SANITATION, THE REPORT CALLS FOR AN INTEGRATED APPROACH AT HIGHER LEVELS OF POLICY IMPLEMENTATION AND GOVERNANCE TO ENSURE THAT THE POOREST AND MOST MARGINALIZED COMMUNITIES HAVE EQUITABLE ACCESS TO THE INPUTS AND RESOURCES THAT THEY NEED TO IMPROVE THEIR LIVES AND LIVELIHOODS.
Water is key to human life. It is key to human food security and nutrition. Safe drinking water and sanitation are fundamental to the good nutrition, health and dignity of all. According to the latest estimates by WHO/UNICEF, in 2011, 36 per cent of the world's population – 2.5 billion people – lacked improved sanitation facilities, and 768 million people had to rely on unsafe drinking water sources. Water of sufficient quantity and quality is essential for agricultural production and for the preparation and processing of food. Irrigated agriculture accounts for 70 percent of all water withdrawals globally (surface and groundwater). 40 percent of irrigation uses groundwater sources, some of them non-renewable at human time scale. Climate change will alter the geographic and seasonal patterns of precipitations, with impacts on agriculture.
How can the world ensure food and nutrition security given increasingly scarce wateresources, especially in some regions, and the increasing competition for water uses?
This policy-oriented report from the High Level Panel of Experts on Food Security and Nutrition (HLPE) presents a synthesis of existing evidence on the multiple relations between water and food security and nutrition, from global levels to household levels.
The aim of this report, given the diversity of contexts, is to help all concerned actors to improve water management, and management of agricultural and food systems for water, and to improve water governance, given the overarching need to ensure provision and access to safe drinking water for all, good sanitation, and maximize the contribution of water to food security and nutrition for all, now and in the future.
HLPE
The High Level Panel of Experts on Food Security and Nutrition (HLPE) was established in 2010 as the science-policy interface of the UN Committee on World Food Security (CFS). The HLPE aims to improve the robustness of policy making by providing independent, evidence-based analysis and advice at the request of CFS.
Marion Guillou, president of Agreenium and member of the NATF, is a member of the HLPE Steering Committee.
Group photo during the HLPE StC meeting in Rome (28-30 October 2013, FAO HQ)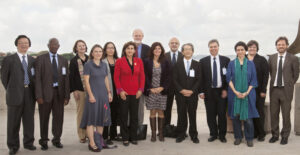 From left to right:
Mr Huajun Tang (China); Mr Amadou Allahoury (Niger); Ms Joanna Hewitt (Australia); Ms Sophia Murphy (Canada); Ms Carol Kalafatic (USA); Ms Marion Guillou (France); Mr Per Pinstrup-Andersen; Chairperson (Denmark); Ms Magdalena Sepúlveda (Chile); Mr Renato Maluf (Brazil); Mr Masa Iwanaga (Japan); Mr Michel Pimbert (UK); Ms Maryam Rahmanian, Vice-Chairperson (Iran); Ms Sheryl Hendriks (South Africa), Steering Committee members. Vincent Gitz (HLPE Coordinator), Secretariat. Not in picture: Mr Bernardo Kliksberg (Argentina) and Ms Ruth Oniang'o (Kenya), Steering Committee members.